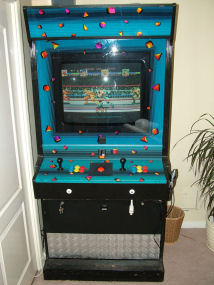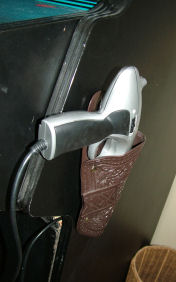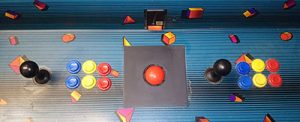 This is one of my current MAME machines. Its a large 2 player cab with a 29″ arcade monitor.
The control panel has been modified from the original
An extra 3 buttons for each player has been added. The joysticks changed to ones that can be changed between 4 way and 8 way by rotating a template guide underneath. A trackball has also been added.
I've also added a light gun.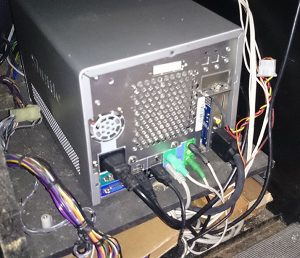 Inside is a shuttle PC as I picked one p for a good price refurbished and its nice an compact.
Interfacing the PC to the arcade controls is a J-PAC from ultimarc. The J-Pac is a circuit board that comes with a cable that plugs into the keyboard port on the PC and has a passthrough port if you wish to plug a keyboard into it as well. It then has a standard JAMA connection on it that you just connect direct to your JAMMA connector on your cabinet. All the controls and monitor in the cabinet are wired into a JAMMA connector to let you do all this quickly and with little fuss. The J-PAC just slots onto this and presents the standard MAME keyboard commands to the PC.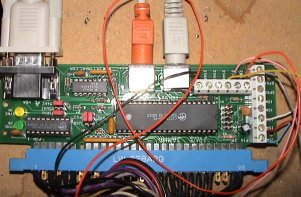 To drive the arcade monitor I have used an arcadevga card from ultimarc.. This allows the PC to drive the 15KHZ arcade monitor.
Currently installed on the machine are emulators for
Amiga
Atari 2600
Daphne – Laserdisc games such as dragons lair and space ace
Gameboy Advance
Sega Megadrive
Music Videos
Jukebox – Looks like an old jukebox that plays music files
SNES
Atari Lynx
Nintendo 64