1 day to go… just sorting out the website so that its ready to be update whilst we are on the road.  Got to drop dogs off today with bro, they should enjoy the break.  Think we have everything sorted.. will have another think tonight to make sure we forget as little as possible

Dogs were all ready to go when they saw me putting their blankets in the car.  Loaded them up and took them to London. Chris met us at the pub and treated us to a meal.  Dogs seemed quite happy in their new home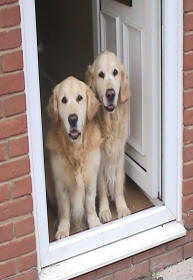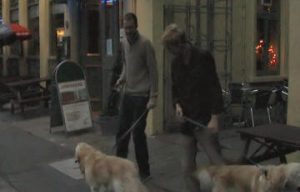 Monday 19th

Cleaned the car ready for the off. Managed to get everything packed in time. Traffic was no probs and we made it to the tunnel in quite quick time. Eurotunnel was dead… was quite spooky we were the only car in the car park. Grabbed a bite to eat and got managed to sort out an earlier train.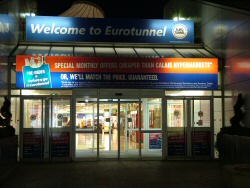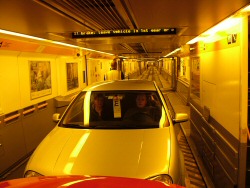 Sat in the car now typing this. Not many cars on the train at all. Was very smooth getting onto the train and didnt seem long at all before we were off. We are sat behind a people carrier that seems packed full of picnic stuff and 3 old french boys who are stood outside it drinking wine.
The picture in the train is the view backwards from our car…hope that couple didnt mind their picture being taken
Got to the hotel ok. It wasnt very far from train at all… just outside of Calais. Both my phones dont work as it looks like my company was too hard up to enable them abroad. Luckily Dianes phone works so borowing hers to do the updates. Hotel is nice, got a long day tomorrow to get to the hotel in switzerland in time for the evening meal we have booked so it will be an early start. I will take some pics of the hotel tomorrow as it was all a bit dark when we got here.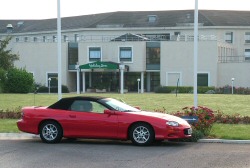 Tuesday 20th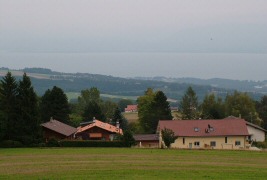 Early start this morning as we had booked an evening meal at the next hotel and it was about an 800km trip. Jumped straight onto the toll motorways and they were soo quiet even at would be our rush hour there was hardly anything on the roads. It picked up a little the further we got into france but for the most of it I couldn't get over just how quiet the roads were. A few observations on the french roads… every car with french plates was either a citreon, renault or peugeot… every caravan was british…. and even though the roads are deadly quiet the motorway restaraunts are full
With hardly any traffic the time didnt go too bad at all and we quickly ate up the miles…. As we got further south the sun started to come through and we put the top town which was nice. Sun stayed with us until we hit the very southern part and started to climb up into the hills. It was nice to have a change of scenery from the endless motorway. The roads leading to the Swiss border were hacked out of the side of hills.. very steep and very windy. Stayed off the toll roads when we hit Switzerland and made our way round the coast road of Lake Geneva. Traffic was very busy and took us a long time to do the last part. They have buses here that run on electric from power cables above them. Sort of like a tram on wheels.. quite strange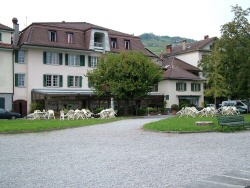 In the hotel now (pic on left).. just about to go down for the meal. The hotel is nice.. very simple but its right on the lakes edge and the room has a view of the lake (Pic on right).
Going to try and upload this now… just got back from a 5 course meal and am very full up. Was very nice though. Lake Como tomorrow. The fog seems to be lifting tonight so hopefully it will be nice in the morning and can get some better pictures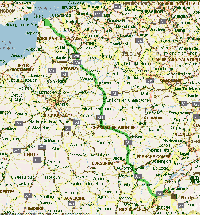 Here is a picture of our hotel in the sunshine (left) and the boat that pulled up outside it (right)

Another full day of traveling today.. although not as far it took a while as we had to go quite north into Switzerland before we could head south.. The drive was a lot nicer as the scenery through the mountains was awesome. All in all it was a really nice drive. I think it took us about 6 hours today to do only 450km but that was mainly due to speed restrictions through tunnels and road works and a very narrow last stretch around lake Como. Today was definitely a better driving day than the boring motorways of France… a lot more to see. After some lunch somewhere at a services wedged between a few mountains we put the top down as the weather was so nice and left it down all the way to Como.

Como is a very beautiful place, even though the roads around the lake are very narrow we found the hotel with no problems.

The hotel is very nice, we have been very impressed with the service. The room has a great view of the lake. When we got here we took the ferry over the lake to Bellagio which is a small village on the other side and had a walk around a drink before catching the ferry back. This evening we went to the wine cellar in the hotel for a glass of champagne before a great meal in one of the hotel restaurants. We went for the roast chicken which was carved at the table. Everything about the meal was excellent. We are both sat in the reading room at the moment updating this.. feeling a bit tired but looking forward to the last stretch of the journey tomorrow.

This is a picture of our hotel room in the Grand Hotel Tremezzo on lake Como(left) and a picture of the view from our room (right).
This is a picture of our hotel room in the Grand Hotel Tremezzo on lake Como(left) and a picture of the view from our room (right).
Another shot from out hotel room of the lake (left).  The picture on the right is a massive house that was in Bellagio right on the front but all derelict.
A shot of the lake in the evening (left). This is the map of today's journey (right). In all around 450km.. as the crow flies it would of only been 200km 🙁
 
 
 
Woke up this morning to some very nice weather. virgilio came round with some wine and some food for lunch but first we had to go and get some water and see Sonia's new flat. We filled up the bottles from a natural spring near Montecarlo, it was quite a meeting place while we were there a number of other people also came to fill up from the spring. Sonia's new flat was very nice with lots of marble and tiles all finished very nicely.
Headed back to where we were staying and everyone had gathered round for a very nice lunch of melon, meats (including donkey), rice, barley and of course bread. The sun was very hot but it didnt quite warm the pool up enough to have a dip. After lunch Diane went to have her hair done and I went off with Virgilio, Maureen, Charmian and Naomi to some local villages. Virgillio as ever was the perfect tour guide. This evening we met up with Maureen and family in San Salvatore for a very nice pizza

Its the big day tomorrow and with a 9am start at the church everyone is off for an early night. I have been roped into doing some videoing of the wedding so I hope that goes all to plan…. 

This is a shot of the view from the place we stayed.

 
Saturday 24th
Success.. A perfect day for a wedding, you couldnt have asked for a better day.. the weather was great with glorious sunshine all day. Got to the church early and set up the video camera squashed in between the photographer and the singer / organ player. I was at the front of the church facing back and Maureen was at the back facing forward and the idea is to try and merge the tapes together when we get home. Fabio waited at the church for Sonia to arrive in a white fiat 500. The music started and they both walked down the isle. The ceremony was very long with no hymns as such but the singer did burst into song every now and again. The service was all in Italian but we got the gist of it.. the I do's, exchange of rings, you may now kiss the bride etc..
After the wedding we all went to Virgilios restaurant. We were given white bows to tie onto the cars, We then made our way to the restaurant in a big convey of cars all with white ribbons. It seems to be a custom in Italy that whenever you pass through a village or pass other cars you honk your horn.. so it was a very noisy journey to the restaurant but all in good spirits.
On arrival at the restaurant there was drinks and canapés waiting whilst we waited for Sonia and Fabio to arrive as they had gone off to have some photos taken. Once they arrived we had the family photo shoot and then we sat down for some food. The meal was fantastic with soo many courses that I lost count after 5… The food was very nice though.. all done to perfection.
After the meal Virgilio took us around the wine factory next door and gave us a guided tour of how the wine is made. All the different processes and just how long it takes. It really gave us an insight of how much work goes into making the glass of wine and how it will give us a better appreciation in future when we drink it.
To round off the evening we had a fruit salad and some wine back at the villa. Tomorrow we are off to Livorno to try and meet up with my mum and dad who are there for a day as part of a cruise.
Here is a selection of some of the pictures we took. I will add them all and in full size once I get home.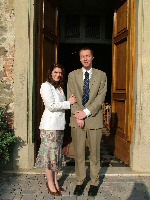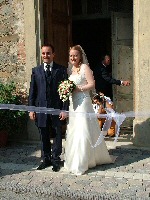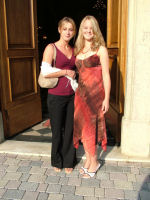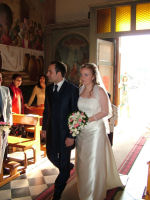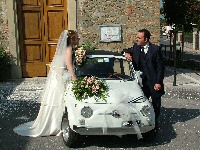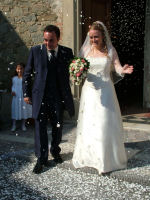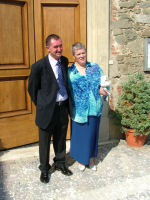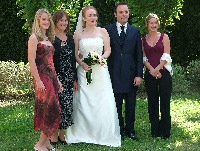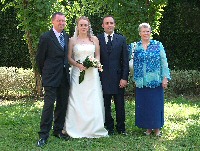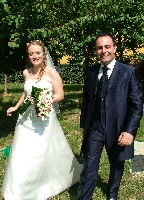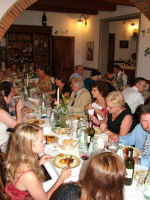 Sunday 25th
Today we went to Livorno. My Mum n Dad are on a cruise and their ship was docking in Livrono today so we went to meet up with them. Its not too far at all.. about an hours drive. We found somewhere to park and dad had texted us where to meet. We were a little early so we went and sat in a cafe to wait for them. We had only been sat down 10 minutes when they arrived. It was good to see them as I hadn't seen them for about 5 months. The weather was kind to us again with a very nice day. It was a Sunday so all the shops were shut so we took a walk to the docks to see the ship that they were on
There was a very nice sail ship in dock as well which Virgilio said was a school ship where they teach people to sail. We had a nice fish lunch in a restaurant on the front before walking around some of the canals and then heading back to say goodbye.
In the evening Virgilio had to work again so Gilly kindly cooked us some food at her house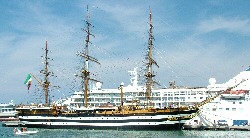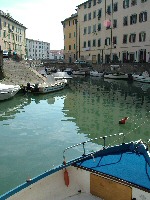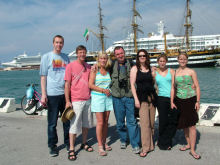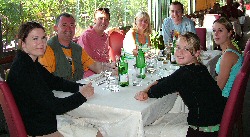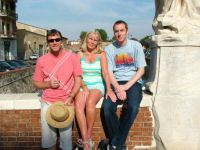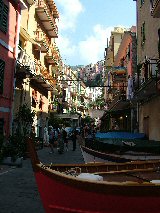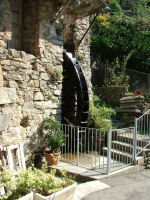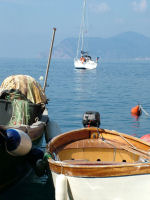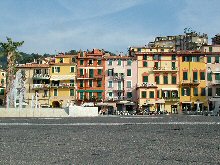 Monday 26th
Today was yet another sunshine filled day. We set off in convoy again with me and Diane following Virgillio. This time our destination was Manarola which is one of 5 villages that you must visit if you are in love so that your love lasts forever.
The village was a single steep track down to the sea with all the hill sides lining the village every inch used for growing wine or fruit. The buildings were all painted like the buildings in Portofino. Down at the bottom was a very nice harbour with lovely clear water.
I went for a swim as the water was so warm. It would of been nice to have a mask and snorkel and spend some more time in the water as it was a perfect day.
We had lunch at a restaurant there with most people opting for a pasta dish, I had pasta with seafood which was very nice.
We then headed to another coastal village the other side of La Spezia call Lerici which again was very nice. There was a lot of small boats in the harbour and it had a sandy beach. We had a look around and finished the day off with an ice cream from a cafe on the front.
After that it was a dash back home for a home made meal from Virgilios parents
We hit the road again tomorrow to start the journey back.. The time has gone by too quick here and it will be a shame to go.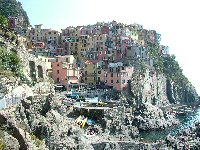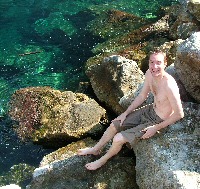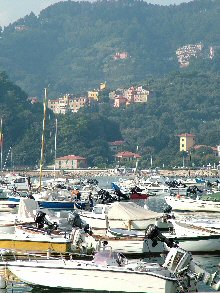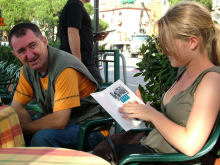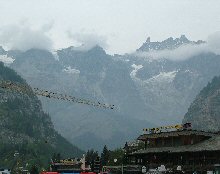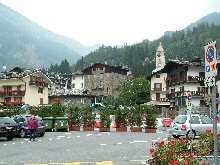 Tuesday 27th
Got up this morning and packed the car up. Left the villa for the last time… was sad as the gates closed behind us. Had breakfast at Virgilios as we were in no rush to get off I don't think we set off till about 10.30.
Hit the road and headed north west to France. Roads were pretty clear and we made good time. Scenery in Northern Italy was great with some very impressive views as we approached Mont Blanc. The tunnel was expensive to get through. about 30 euros i think, which was about the same cost as all of the roads through Italy. After the tunnel we went off the motorways and drove through some really nice French villages. Sat Nav got us to the village where the hotel said it was but we couldn't find the street listed so had to call the hotel to get the last directions. Hotel was pretty average (below right) but we had a very nice meal in an excellent restaraunt next door. Total distance today was about 540km.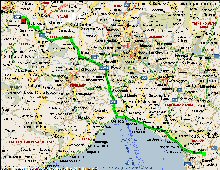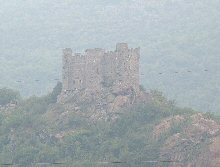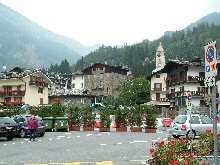 Wednesday 28th
Today the destination was Reims, Champagne region. Stuck to the motorways again as we wanted to get their in good time and get chance to look around. Journey was pretty uneventful with just lots of motorway miles. We got here about 3.30. We are staying in the equivalant of a travel lodge called campanile which is quite tidy. After dumping our stuff in our room we got a taxi into the center. Had a good look round at the cathedral and in a few shops. Quite a few english named shops in the town including C&A … Had a nice meal in the center and then went off to look for a wine store to buy a nice bottle of champagne. Bit of a scare on the way home in the taxi as he took us to the wrong hotel and then struggled to find the one we were in but luckily he got us close enough and we were about to direct him the last bit of the way.. The fare meter by this time was off the scale and we thought we would have a fight on our hands but he offered to let us have the fare for free as it was his mistake but we felt guilty and gave him 10 Euros.
Got an early start tomorrow to get to Calais for 11.30. Total distance today 573km. I've started to fill in some of the pics with better quality ones since I had a decent connection tonight.. will do the rest when I get home