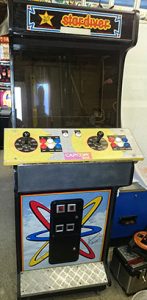 This is the 2nd of my current MAME cabs.  This was an old cabinet I had with a non working monitor and a knackered control panel.  It had been in the garage ages and when I picked up a spare monitor for the other mame cab the guy was getting rid of his control panel that he had made for one of his projects.  I shoved an old CRT PC monitor inside the cabinet, made a new bezel and retro fitted his control panel to the cab.
This is a pic of the control panel that I picked up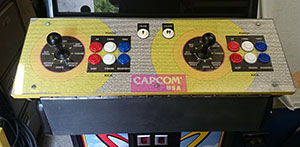 A pic of the underside of the control panel

The interface between the arcade controls and the PC is a minipac from Ultimarc.  I also went for the wire harness as well this time so all the wires came pre-done which saved loads of time connecting everything up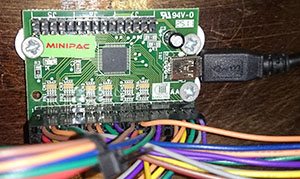 The speakers in the arcade cab are driven by this old pc speaker amp.  Its powerful enough for what I need although does lack the bass of the other cabinet.

The door on the cabinet was quite rough so I repainted it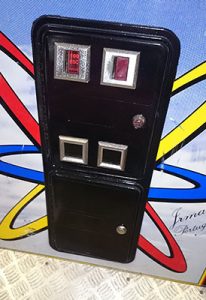 Behind the marquee you can see the cab speakers that the little pc amp drives and a row of LED lights to light up the marquee

The PC has the same infterface and emulators as the other MAME cab.