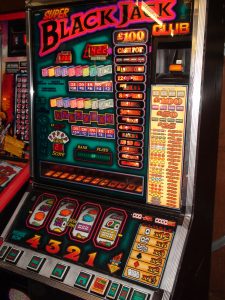 Name:
Super Blackjack Club
Technology:
MPU 4
Play:
10p
Jackpot:
£100
Payout %
 
Manufacturer:
Barcrest
Notes:
 
Manuals
 
Work Done
March 2012
Coin Mechanism wasn't connected.  Re-connected cable but it was smaller than the pins on coin mech.  From the top of the connector missed out the first two pins and re-connected
Work to do:
 
This Machine has the G for George autoplay
Features
To enter the feature mode get either 3 ace of clubs for a normal start or 4 ace of clubs for super start
Fruit Match
First real spins and you are offered a fruit can accept it or let it spin another once decided it will spin the second reel to match that fruit.  Then it will slowly spin the third reel and you have to hit the hold button to try and stop it on the same fruit.  If you get that one it will spin the fourth reel faster and again you have to try and stop it on that fruit
Three Grapes
Spins in three grapes and you win that amount
Black Jack
Stop the multiplier on either x1, x2, x3, x4 or x5.  Then you get delt a card.  Use the hold or twist buttons to get your best score without going bust.  If you get above 17 you win the amount shown on the table multiplied by the multiplier. Five card bonus is an extra £3
Super Series
Spin in a number of wins depending on which super series you are on and win the combined amount
lLootShoot
Spins in a cherry then gives you a skillshot.  If you win that skill shot it will spin in 2 cherries, then 3, then 4 etc incrementing the win every time.
Super Nudges
Starts with 8 nudges and shows you the best win.  You can either accept or respin if you respin the number of nudges is decreased by 1
NoteLadder
Stop the multiplier on either x1, x2, x3, x4 or x5. It the gives you 3 goes on each note amount with a yes / no gamble.  When you strike out 3 times on the same note you win the face value of that note multiplied by the multiplier.
Cherries Galore
Spins in first cherry the yes / no gamble to see if you can get the 2nd, if you get that then yes / no for third cherry and then onto the 4th