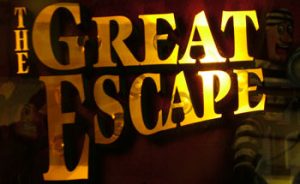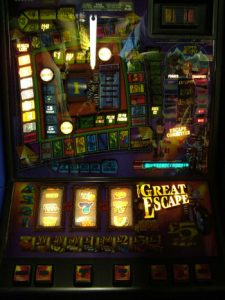 Name:
The Great Escape
Technology:
Maygay M1A
Play:
20p
Jackpot:
£5
Payout
90% selectable switch
Manufacturer:
Maygay
Notes:
The Italian Job Clone
Game Chip:M27C10010-12F1 | 5880K | 9901F
Work to do:
 
Work done:

Problem: Wouldn't boot

Issue: Vertical diagnostic lights came on and the slowly faded off

 

Put the PSU and Main board into another machine to test that they were ok and all booted fine.  Hadn't seen the lights on the Maygay board slowly fade out like that before.  Usually they switch pretty instantly.  Managed to trace the fault to the Alpha in the end. Unplugged the alpha and the machine booted fine.  Couldn't fix the alpha but found a spare.  Had to dremmel a new hole in it to fit the plastic feet in the machine but other than that was a good fit.

Jackpot Video:
THE GAME
Basically, you have to get three Great Escape symbols on the winline. This starts the feature game.
After losing a feature game early on, the machine will quite often spin in 3 logos to put you back on the feature straight away.
---
THE BONUSES
Tunnel Collapse – Removes all lights from either the feature, cash or nudge ladders.
Caught – Game over!
Forger – Lights an extra Forger symbol.
Transport – Lights an extra Transport symbol.
Bonus Tunnel – Adds randomly to the feature, cash or nudge ladders.
Decoy – This is an extra life. If you manage to get it keep going until it is taken off you. As soon as you lose it I would seriously consider collecting whatever you have.
Do or Die – This is a HI/LO gamble. If you win the gamble you can carry on.
---
THE FEATURES
Search Light – The Search Light enables you to pick any square on the board that takes your fancy. Just press cancel to slow it down and select the square you want!
Multiplier – Flashes random wins, i.e. 20p * 8, £1.60 * 3, etc. Very quick, but can offer some decent wins.
Look Around – Look around is when the lights flash on all the symbols in view and u hit it on a symbol and win that amount
Follow Me – Repeat the flash sequence shown on the hold buttons. Follow me can go from £1 right up to the jackpot!!
Bid For Freedom – 3 shot cash climb up the cash tunnel. Always seems to pay at least the current value of the cash tunnel.
Knockout – Awards you with a random number of knockouts.
Even Break – Even break is when u spin the dice thing by pressing start, it adds a ppond for every even number it spins in
Heavens Above – Spins the reels. You need to select the highest value symbol above the winline on 1 of the reels by pressing the hold button. 3 of those symbols then spin in. Often gives Jackpot, lowest I have seen is £6.
Stir Crazy – Skill stop on all three lines, I've collected it four times, all by holding red sevens 3 times, gambling once then exchanging. First two times it was really slow and easy to get the Super Jackpot (I aimed on the feature line) Third time it was being stupid and was really fast, only going up to the third one on each trail Fourth time it was fast but went all the way, got Heavens above for jackpot
Up Against Time – You are given an unlimited amount of nudges and only a sort time to use them!! Done carefully this feature is a JACKPOT!
Super Jackpot Repeater – Jackpot with a repeat chance.
---
ESCAPE COMMITEE
When you get the escape committee (The Symbol on the middle reel) you are awarded hidden features! You now need to press the hold buttons in a certain order. These are listed below:
 1-2-3 = Win Streak – I always take this feature. It spins in a win, If you hit repeat you get another win etc. If you get past £5/£6 you could end up winning £30+ !!!.
1-3-2 = Hi/Lo Cash – Gamble higher or lower for more cash!
2-1-3 = Mega Hold – Steps reels up/down 2 steps.
2-3-1 = Cash Repeater – Pick a win with repeat chance.
3-1-2 = Superstop – Fast skillstop on the cash line, cancel won't slow it down.
3-2-1 = Line Up – Steps reels up/down and adds to the cash line when it passes a Great Escape symbol.
---
BARCODES
Left Hold Button – The number reel spins really fast. When you stop it the number adds to the Cash, Features and Nudges trails. Select the trail you want to collect.
Middle Hold Button – Follow me for £5. The machine flashes a sequence on the hold buttons. Repeat the sequence correctly for £5.
Right Hold Button – I always press this one! It gives you a win (one of the bars). If you can gamble higher or lower at least once you will be able to exchange for the feature. When you exchange you should find that £10 or the Jackpot is waiting for you on the nudges!
---
INVINCIBLE MODE
The Invincible Mode on this machine happens when the Great Escape Logo turns red. Be warned – It is not unusual for this to repeat three times!
Some players prefer to turn down the "Red Mode", by killing themselves off or collecting a small win. If you do this you will get a few more red modes (do not take them), finally you will get a "Normal" feature. You can now go all the way to the Super Jackpot, which now has a lot more chance of repeating!!!